Phenolic sockets plastic lamp holder
Full range of high quality bakelite lamp holders. Our range includes many types of lamp holders E12, E14, E26, E27, B22, B15, E39, E40. Most items carry full approvals of CE and VDE and / or UL approval and all are compliant with RoHS.
If you need to order phenolic plastic sockets, then start here and JAMES will give you products that exceed your expectations.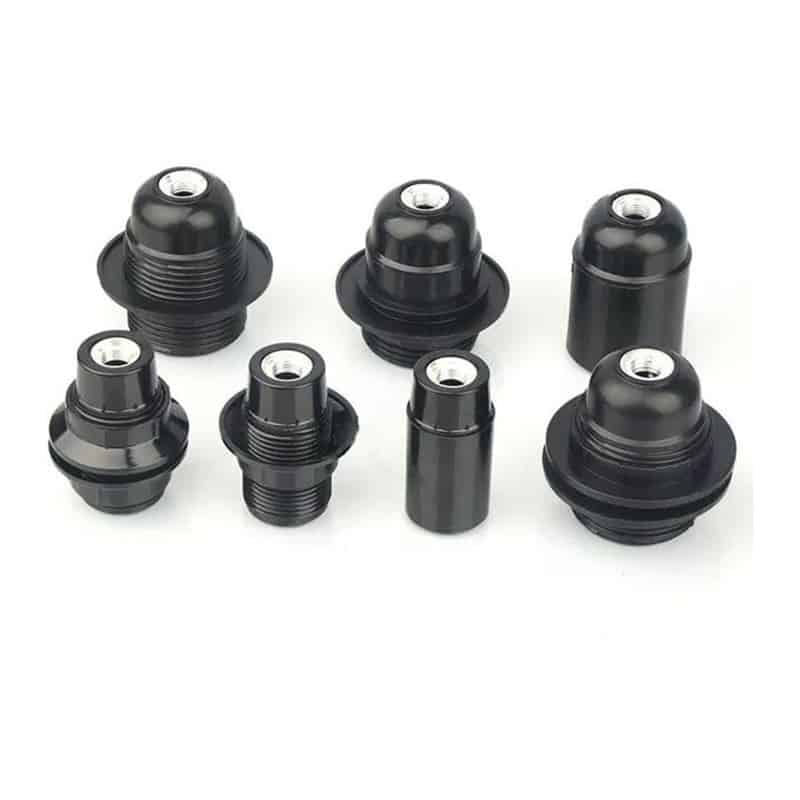 E14 smooth bakelite lampholders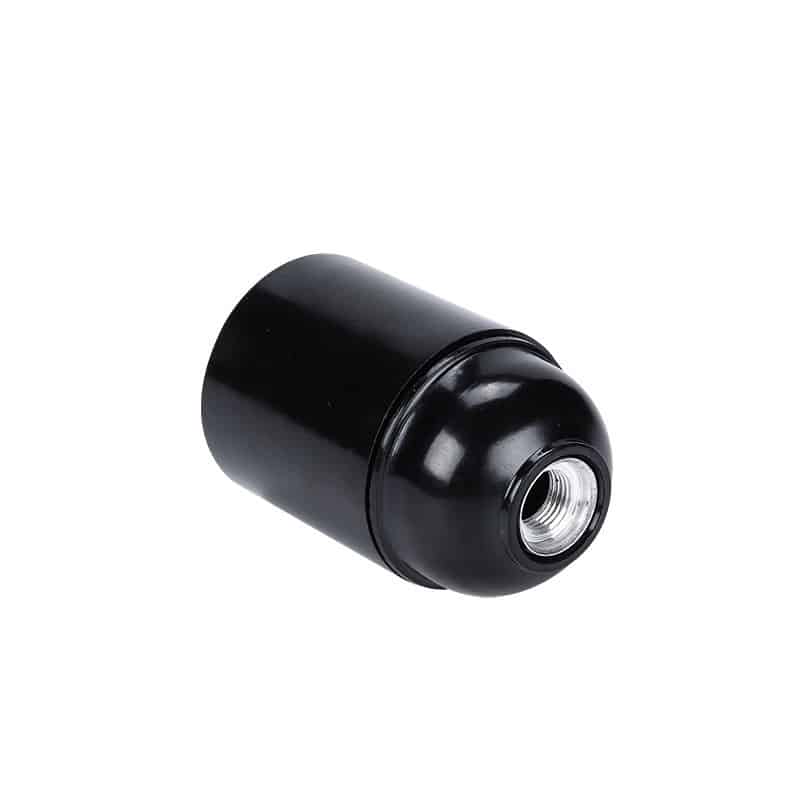 E27 smooth bakelite lamp socket
E27 bakelite half-body lampholder
E14 plastic full-body sockets
Phenolic medium base with clip
E26 socket with pull chain switch
B22 bayonet phenolic sockets
What is a bakelite lamp holder
A phenolic socket is a type of light bulb socket that is made from phenolic resin, a thermosetting plastic material. Phenolic sockets are commonly used in lighting fixtures because they are durable, heat-resistant, and relatively inexpensive.
It has high mechanical strength, good insulation, heat-resistant, corrosion-resistant, therefore commonly used in the manufacture of electrical materials, such as lamp holders, headset, phone cases, instrument case, "Bakelite" named.
Phenolic VS Plastic Socket
Phenolic sockets and plastic sockets are both types of light bulb sockets that are used in lighting fixtures. 
Phenolic sockets are made from "bakelite",the material chemical name is called phenolics, which is a thermosetting plastic material. This makes them more durable and heat-resistant than plastic sockets. 
Phenolic sockets are able to withstand higher temperatures without melting or warping, making them a better choice for high-wattage light fixtures or applications where the bulb generates a lot of heat.
Plastic sockets, on the other hand, are typically made from thermoplastic materials such as PVC or polycarbonate.
Plastic lamp holder are less expensive than phenolic sockets and are a good choice for use in low-wattage light fixtures or in situations where heat is not a concern.
All You Need To Know About Plastic Lamp Holder
According the lamp bayonet bit different, plastic lamp holder can be divided into E14, E27,  E12, E26, daily life, the common base E14, E27.
Plastic head resistant to temperature to be high, generally higher than for other types of caps can be achieved for more than 240 degrees.
Plastic Lamp holder, Also known as the plastic light sockets.
The lamp is generally divided into the plastic head, Phenolic socket, ceramic light socket, brass lamp holder.

The plastic head is generally made by the injection molding machine with mold injection molded of its raw materials can be divided into the PET, PBT, LCP.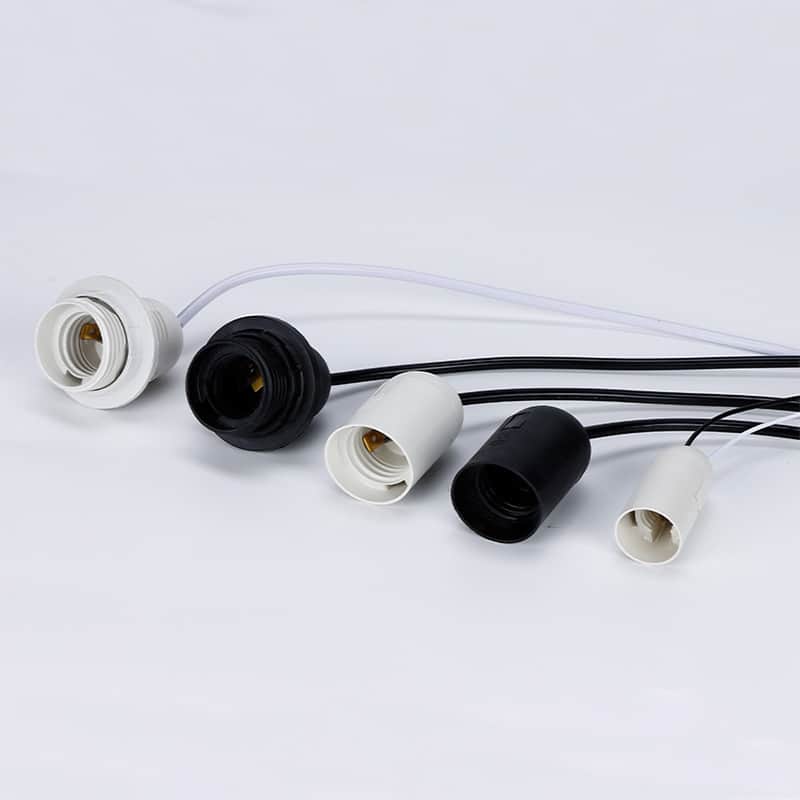 About The Bakelite Lamp Holders
Bakelite lamp holders, moulded in black. This is also known as a Small Edison Screw or ES lampholder. 
Our range includes many types of phenolic sockets, but if you cannot find what you need please contact us. Suitable as replacements for most applications or for new projects.

Most lamp holders carry full approvals of CE and VDE and / or UL approval and all are compliant with RoHS.
Bakelite lamp holder advantage:
1. Using high temperature resistant, anti-aging material. In PBT for aging test of main production and processing base.
2. it has a high temperature resistant, anti-aging, can features such as flame retardant. 
3. In the process of aging test can be firmly stuck lamp holder, can directly plug in again and remove the energy-saving lamps.
4. Think many conveying equipment factory, energy-saving lamp production factory production lines of aging.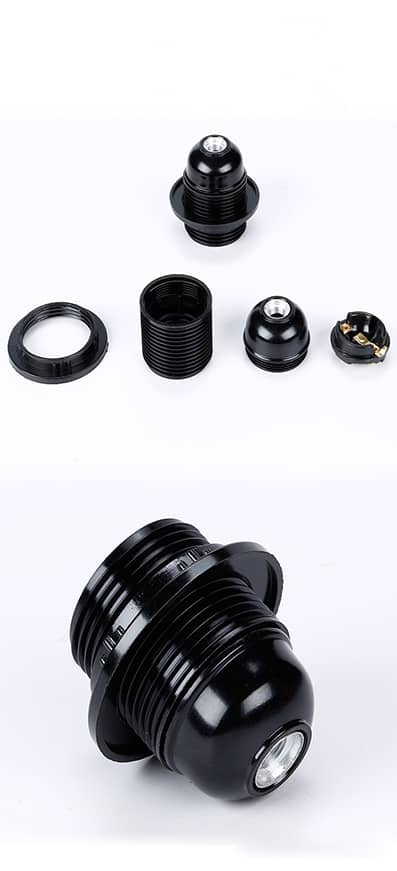 We Leave
No Room
For Doubt
HOW TO INSTALL THE LAMP HOLDER?
We will provide a detailed installation dimensional drawing, you can install it with full reference to the dimensional drawing.
Yes, We are a proffessional manufacturer for lamp holders since 1991, export to USA, UK, France, Germany, Brazil, Middle east, ect.
You can send your requirements, and inform your purchase quantity. We will confirm what is the most suitable material and quote our best price to you in 24 hours. If you are very urgent to get the price, please call us or tell us in your email so that we will regard your inquiry priority.
Can you provide the free samples?
Yes, after lamp holder price confirmation, you can require for samples to check our quality counter display.
Can you accept OEM & ODM?
Yes, we have a professional team to produce the lamp holders according to your demands and drawing.
WHAT ARE THE PAYMENT OPTIONS?
We have the following payment methods:
1. Lead Time: 20 days after received 30% deposit
2. Payment: T/T, L/C at sight, Western Union
3. Free samples for one to three pieces, Freight on the customers' side
4. LCL by express, e.g: FEDEX, DHL,UPS,TNT,etc 5. FCL or LCL by ship
Send us a message if you have any questions or request a quote.