Candelabra Sockets Manufacturer
Full range of high quality candelabra sockets base. Our range includes many types of candelabra e12 sockets and e14 lampholders, Suitable as replacements for most applications or for new projects. Most items carry full approvals of CE and VDE and / or UL approval and all are compliant with RoHS.
If you need to order candelabra sockets, then start here and JAMES will give you products that exceed your expectations.
What is a Candelabra socket
A candelabra socket is an electrical socket designed to hold and connect small light bulbs, typically with a narrow or tapered base. The term "candelabra" refers to the design of the bulb, which is typically shaped like a small candle flame, with a narrower base that flares out to a wider top. Candelabra sockets are commonly used in decorative lighting fixtures, such as chandeliers or sconces.
Candelabra sockets are usually made of metal or plastic and come in a range of sizes to fit different types of bulbs. They feature a series of screw terminals, which are used to connect the electrical wiring from the power source to the bulb. The socket may be designed to accept different sizes of bulbs, such as those with a candelabra (E12) or intermediate (E17) base.
Candelabra socket E12 VS E26
Candelabra sockets are also known as E12 light bulb sockets. They are smaller than the E26 medium sockets and they are commonly used for decorative fixtures.
Candelabra Base = E12 Base
Medium Base = Standard Base = E26 Base
The E12 candelabra socket is typically used in this type of fixture, and it is designed to accept bulbs with a smaller screw base than standard light bulbs.
E12 bulbs have a threaded base with a diameter of 12 millimeters, while standard bulbs typically have a base with a diameter of 26 millimeters (known as E26 base).
As customer needs tend to become more individual. JAMES is able to provide customers with individual and practical product solutions on the basis of comparable functionality.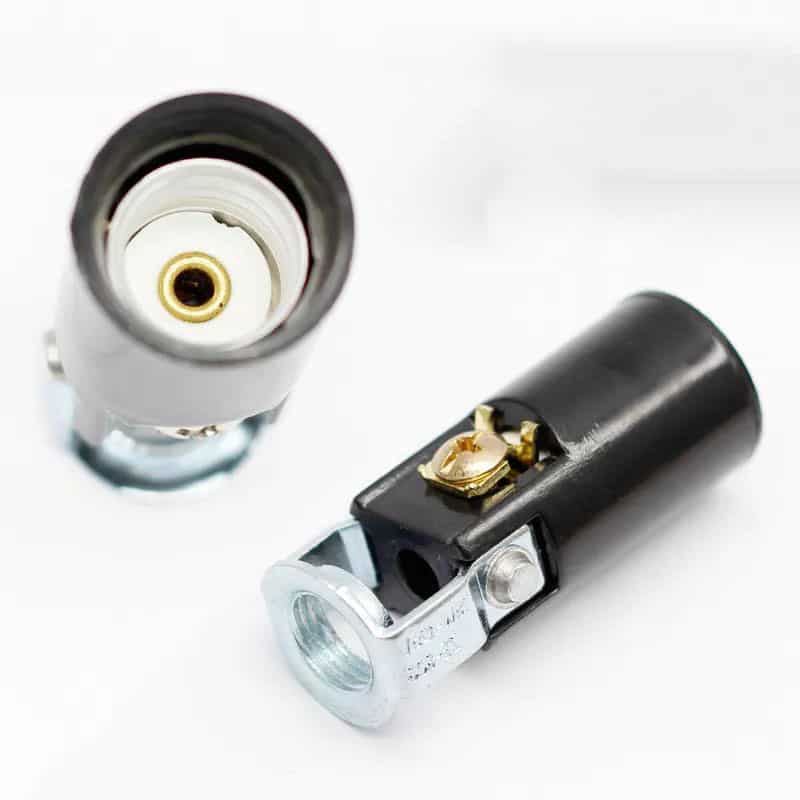 Candelabra e14 socket, The 14 millimeters Edison screw is also called the Small Edison Screw (SES), and the term "SES bulbs" is often used.
Its main applications are for 230-Volt bulbs, especially the smaller candelabra bulbs. They are mainly used in Asia, Austraila, Europe, New Zealand, Africa, and most South American countries.
Its application can vary widely and the bulbs can come in many shapes such as golf-ball shape, candle (chandelier) shape, pygmy shape, and traditional bulb (ball) shape.
Candelabra e12 socket, E12 candelabra socket is a type of electrical socket that is commonly used for smaller light bulbs, such as those found in chandeliers or other decorative light fixtures.
The "E" in "E12" stands for "Edison," who is the inventor of the screw-in light bulb, and the "12" refers to the diameter of the socket in millimeters.
It is the home of C7-sized lamps, so if you bought a C7 lamp before, it utilized the E12 fitting.
As mentioned before, the E12 fitting is very commonly used for 120-volt candelabra lamps usage. It is also often found in lightings for boats, as well as some Christmas and other decorative lamps.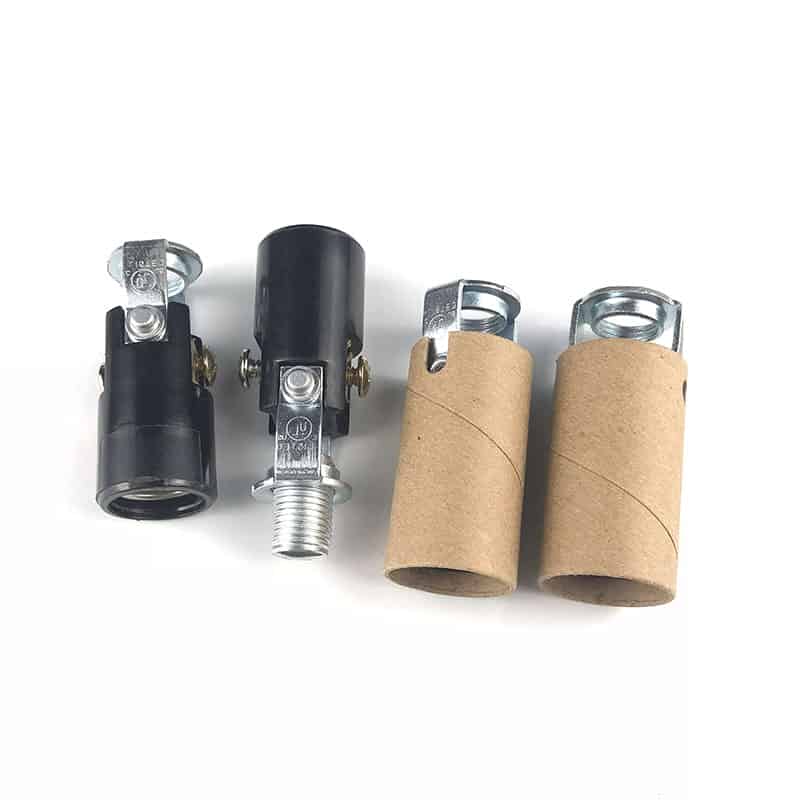 About The Candelabra E12 Socket
Candelabra 12 socket which has a phenolic lamp holder and in a 75W 125V rating with UL cUL & CSA. The E12 Candelabra socket base is also commonly used in chandelier/candelabras lamps.
The fitting is 12 millimeters in diameter size and is often deemed the Candelabra Edison Screw (CES).
20CM Wire Leads,
Pre-wired and ready to use,
75 watt, 125 volt, certified (US),
Socket measures 1-3/4 inch tall overall,
Fits E12 light bulb bases (night light, candelabra, chandelier bulbs).
Candelabra socket or E12 base.
The Candelabra base is also called an E12 base.
The candelabra lampholder is widely used in light socket replacement and installation, You usually find that light bulbs with a Candelabra or E12 base are found in chandeliers, small nightlights, and small decorative bulbs.
JAMES is a professional manufacturer of candelabra socket base from China. 
Now you can order a candelabra socket without any worries!
We Leave
No Room
For Doubt
FAQs About Candelabra Sockets
Yes, We are a proffessional manufacturer for candelabra socket base since 1991, export to USA, France, UK, Germany, Brazil, Middle east, ect.
Can you provide the free samples?
Yes, after lamp holder price confirmation, you can require for samples to check our quality counter display.
Can you accept OEM & ODM?
Yes, we have a professional team to produce the candelabra socket according to your demands and drawing.
What about the lead time for mass production?
Honestly, it depends on the order quantity and the season you place the order. Generally speaking, we suggest that you start inquiry 30 days before the date you would like to get the products at your country.
Can I use an E14 bulb in an E12 socket?
Although E14 and E17 are both Intermediate bases, the bulbs are NOT interchangeable due to the difference in base size. Also, the E14 will not fit in the smaller candelabra socket (E12 – 12mm).
WHAT ARE THE PAYMENT OPTIONS?
We have the following payment methods:
1. Lead Time: 20 days after received 30% deposit
2. Payment: T/T, L/C at sight, Western Union
3. Free samples for one to three pieces, Freight on the customers' side
4. LCL by express, e.g: FEDEX, DHL,UPS,TNT,etc 5. FCL or LCL by ship
Send us a message if you have any questions or request a quote.